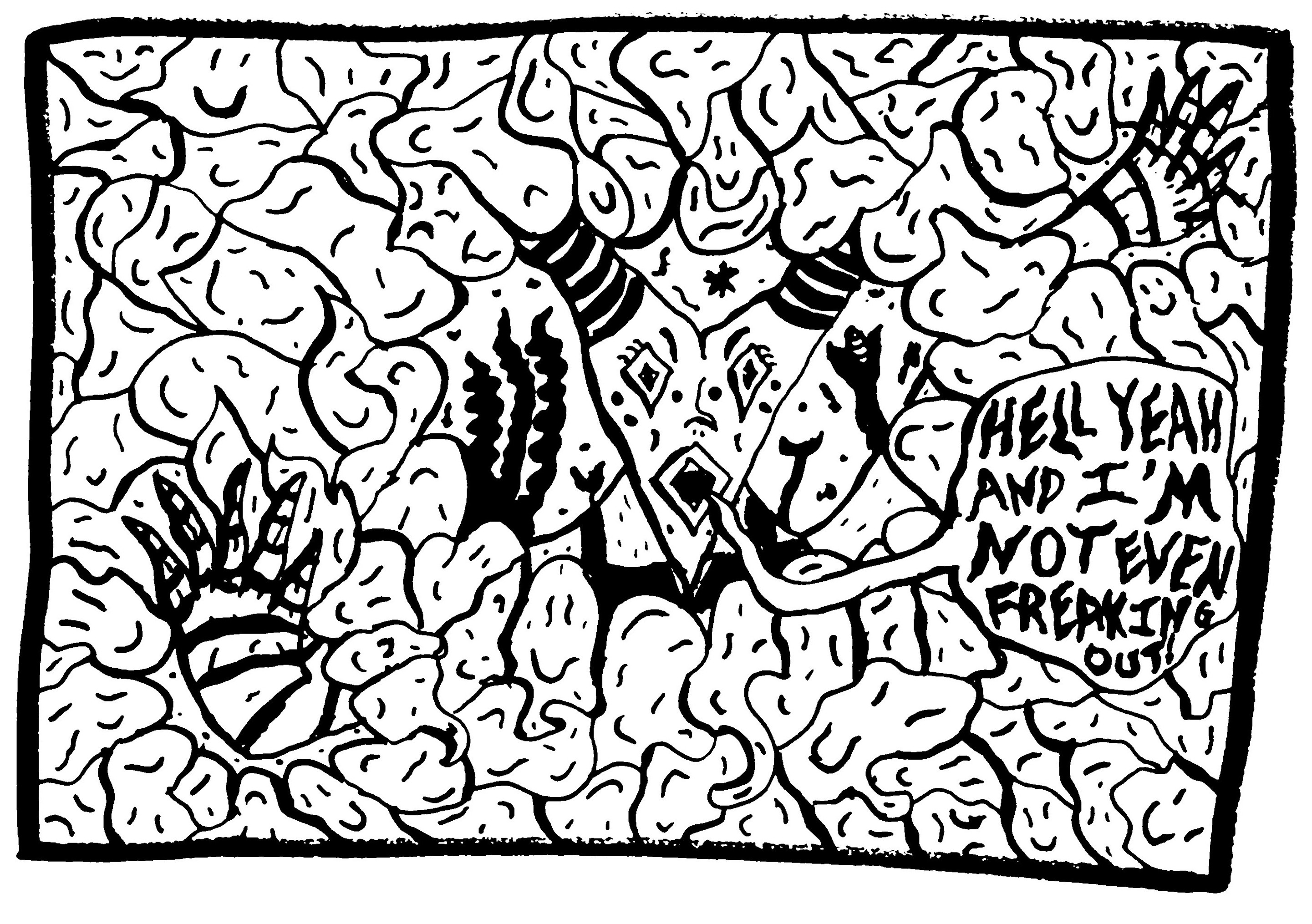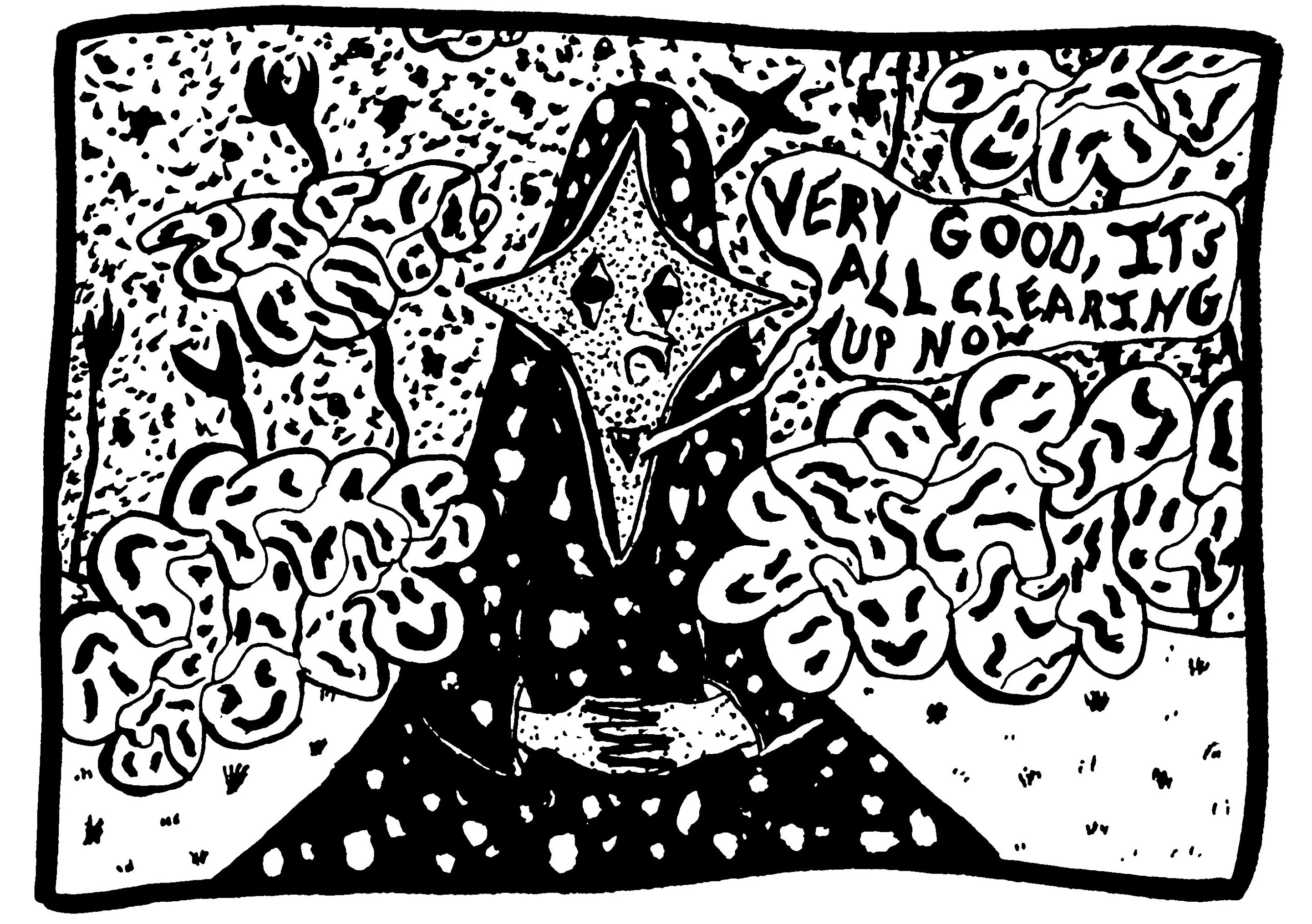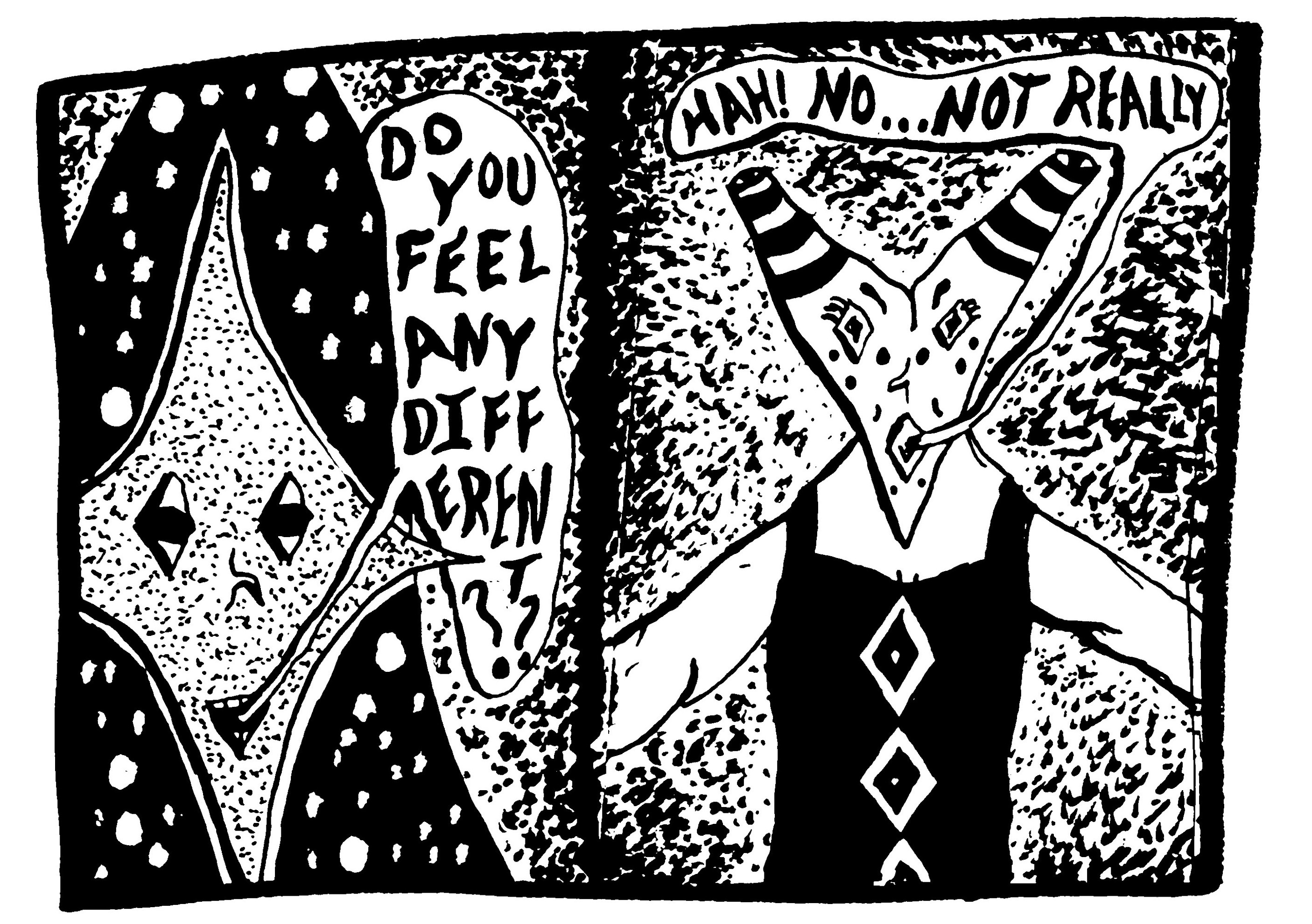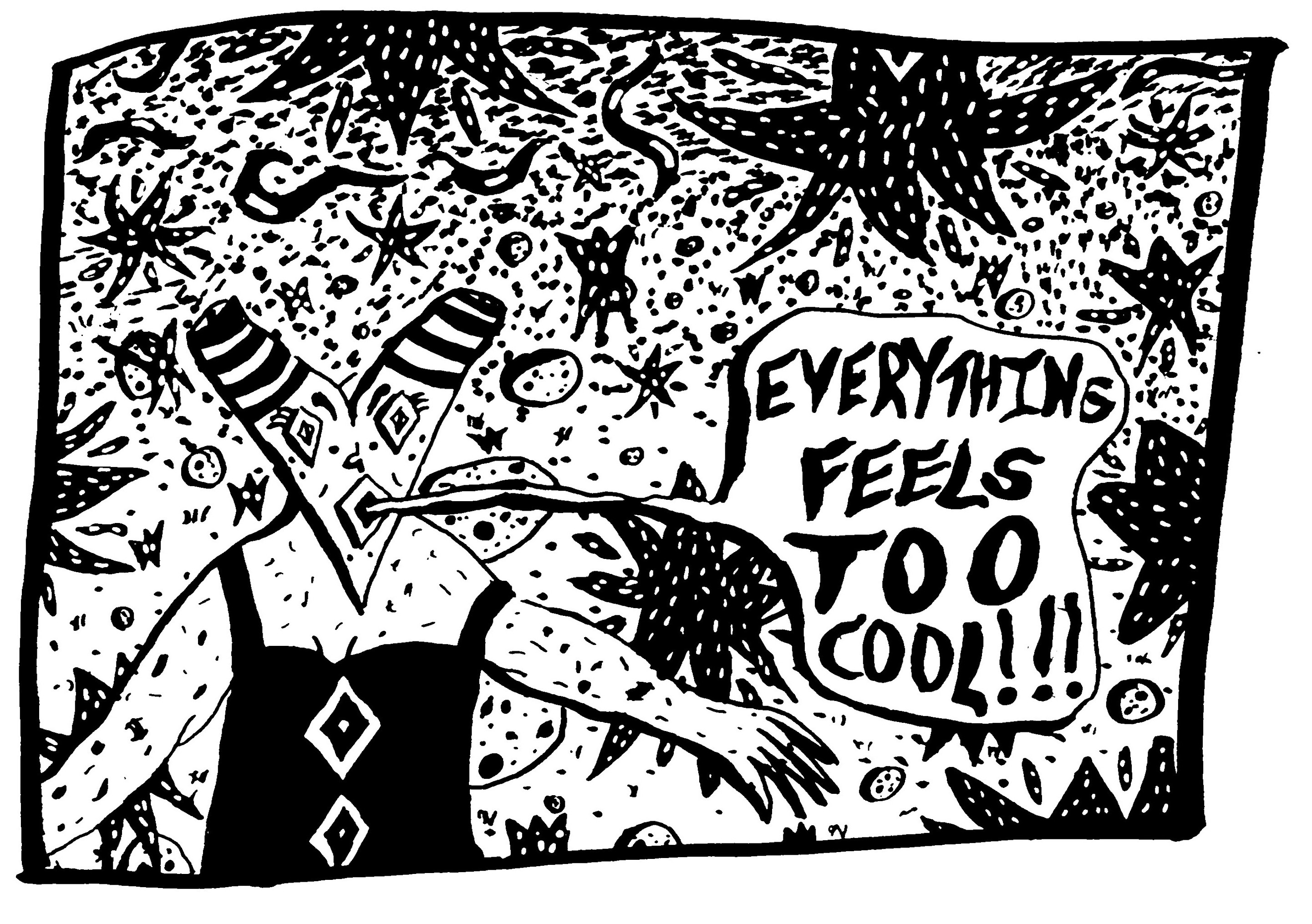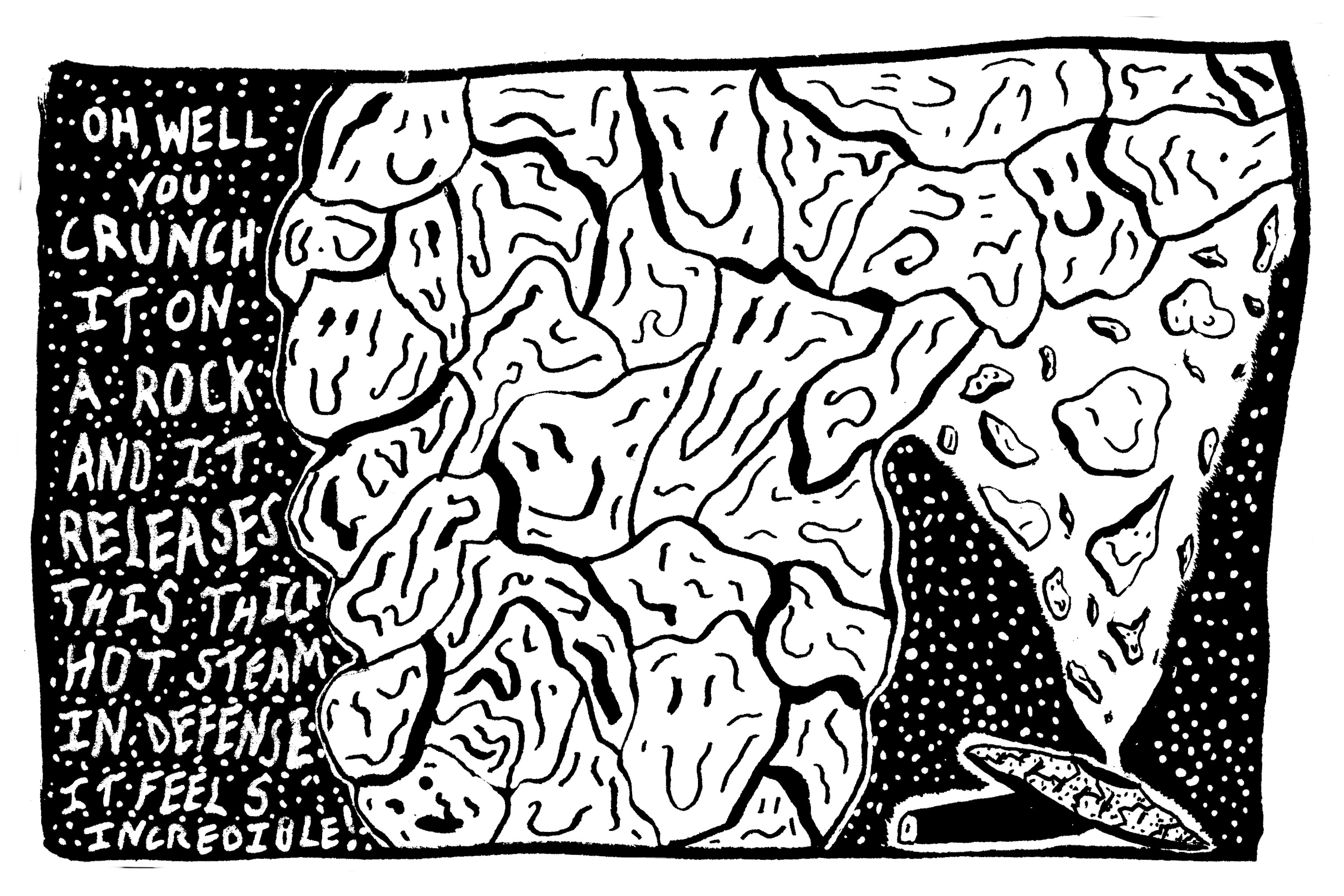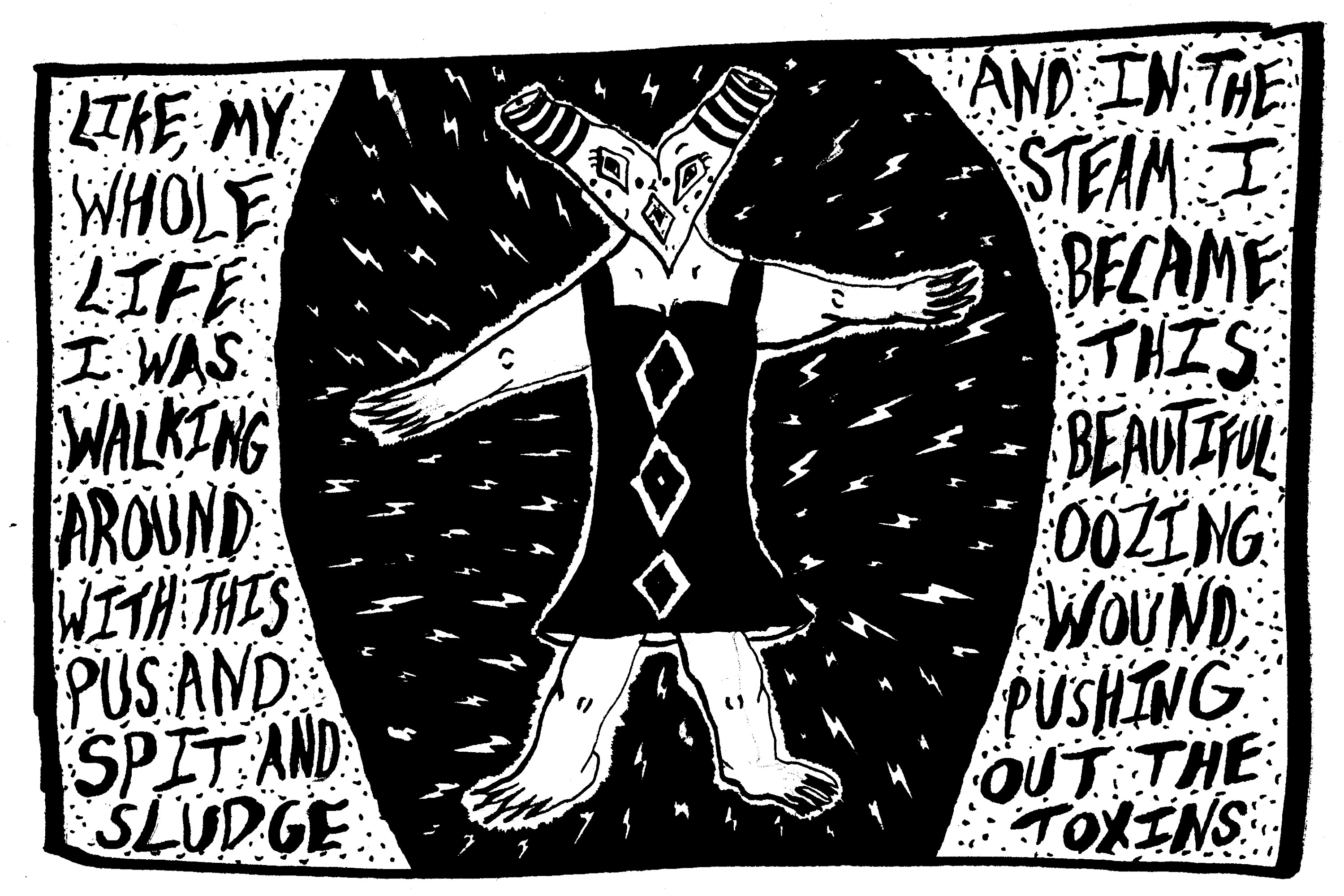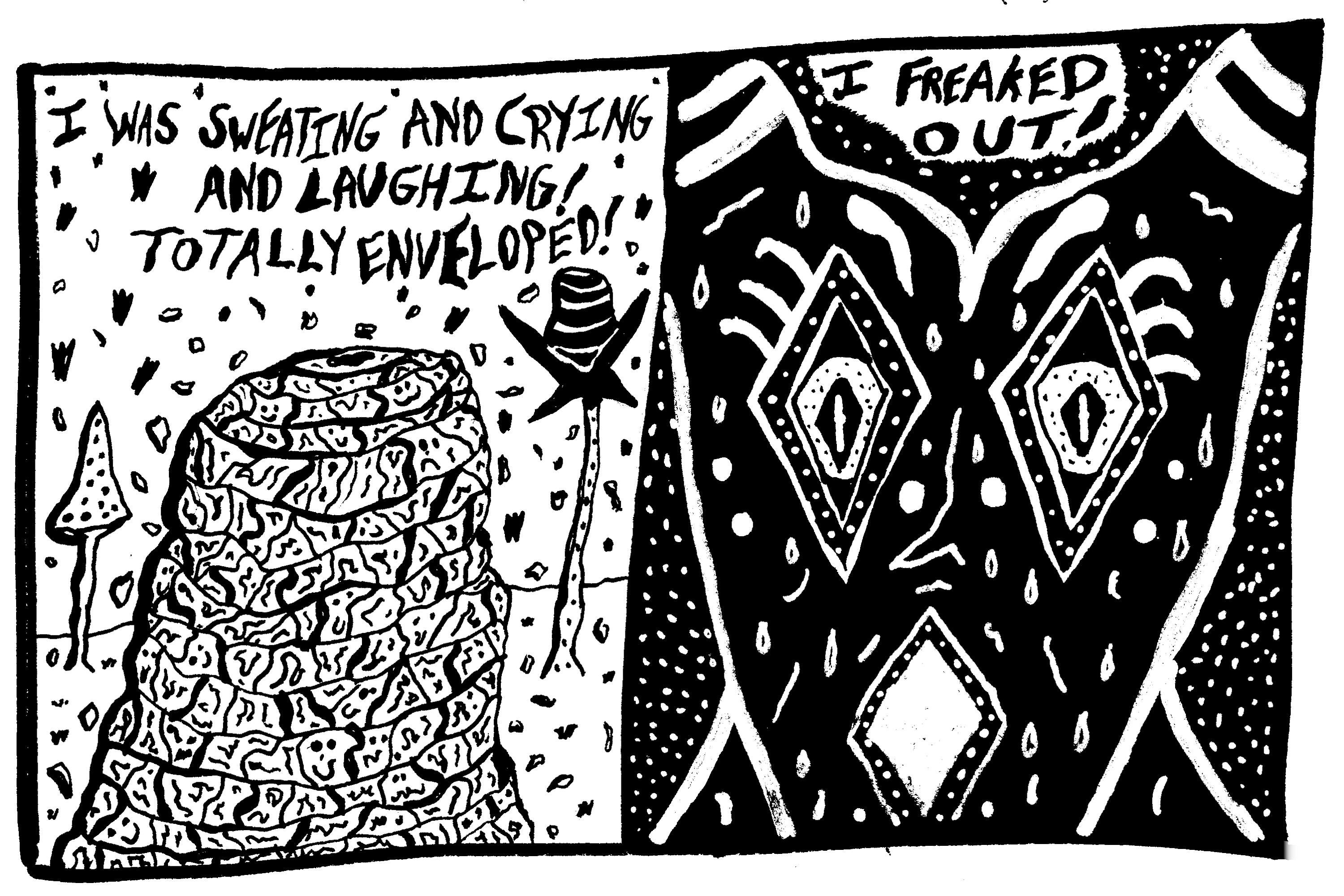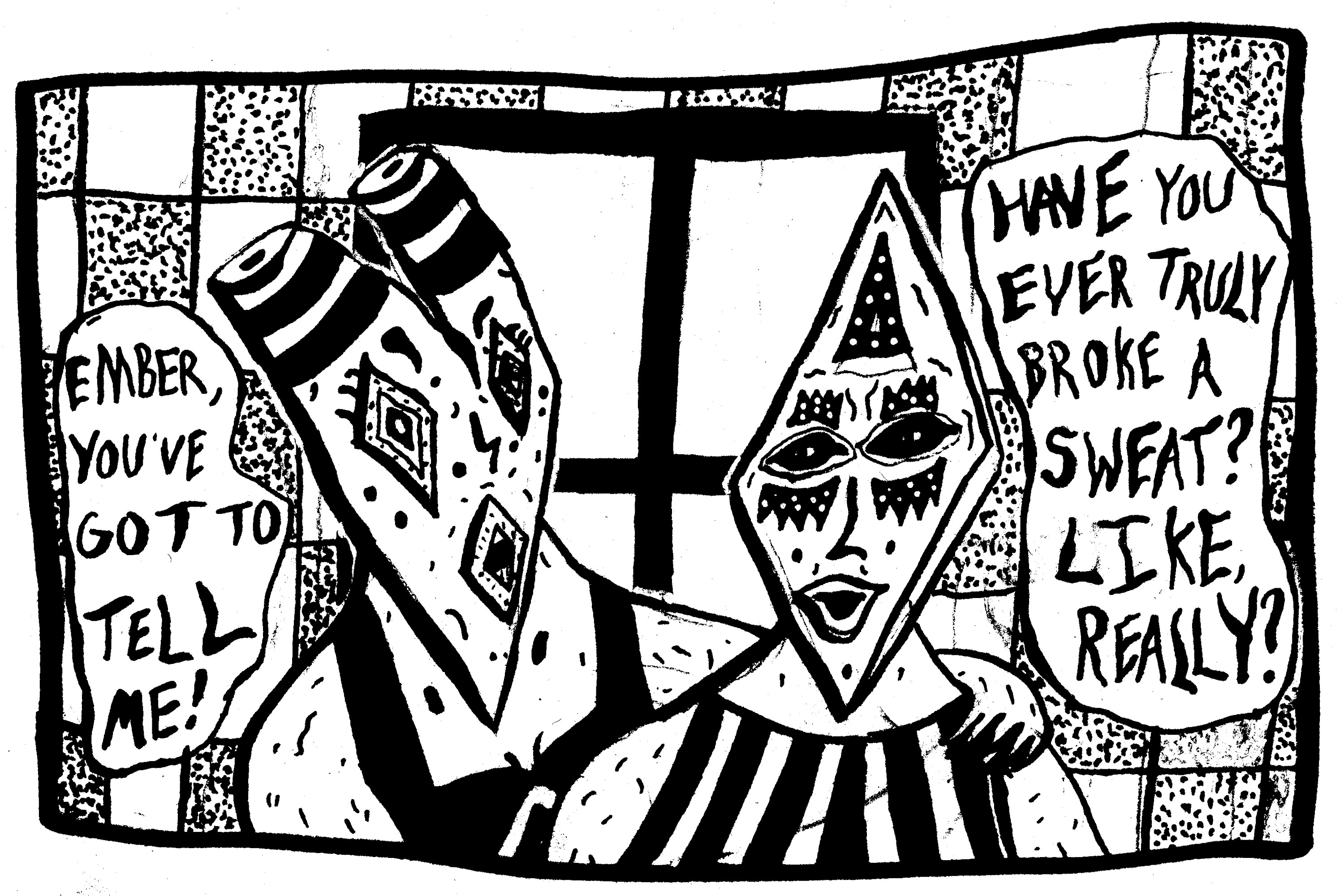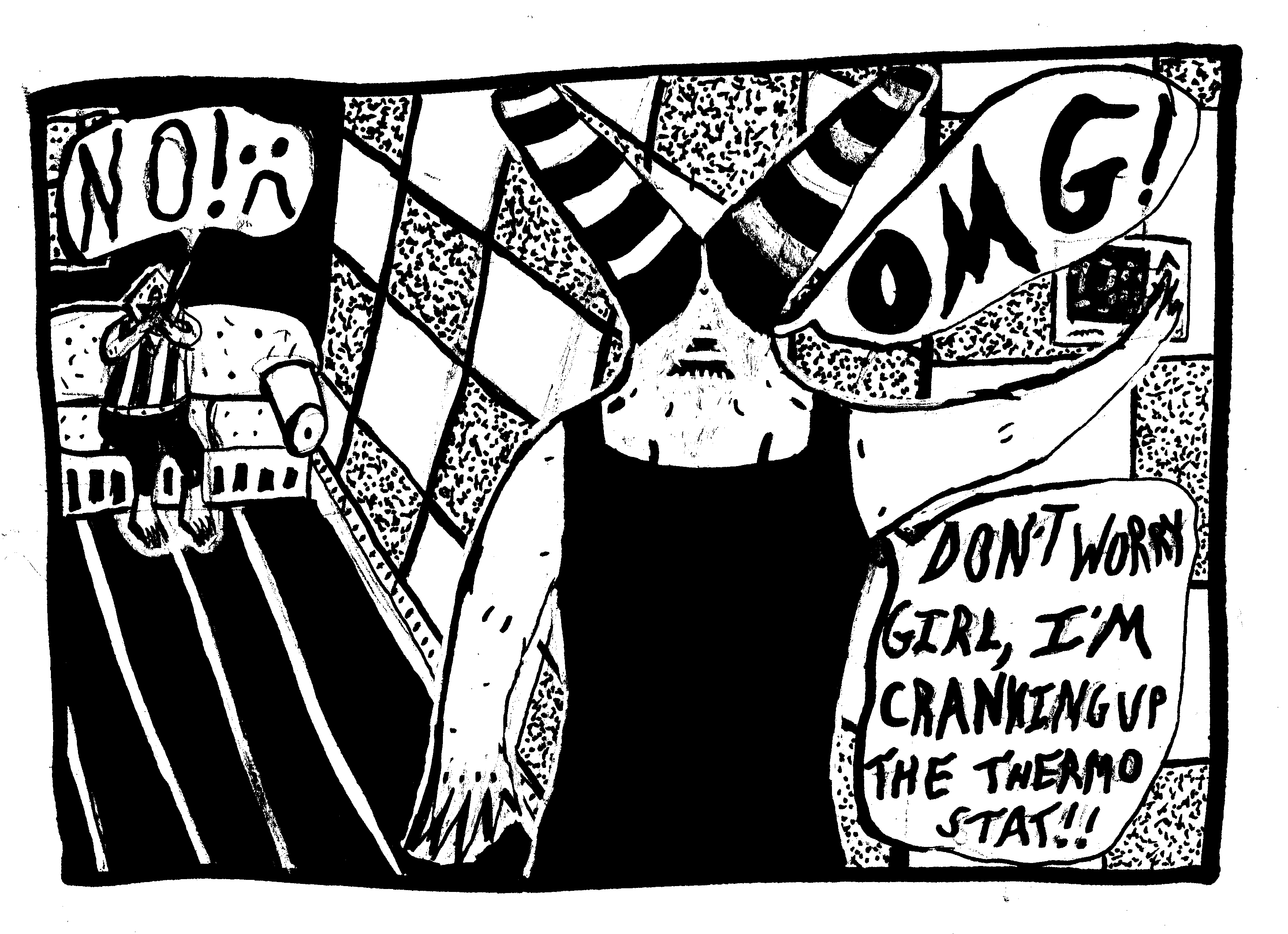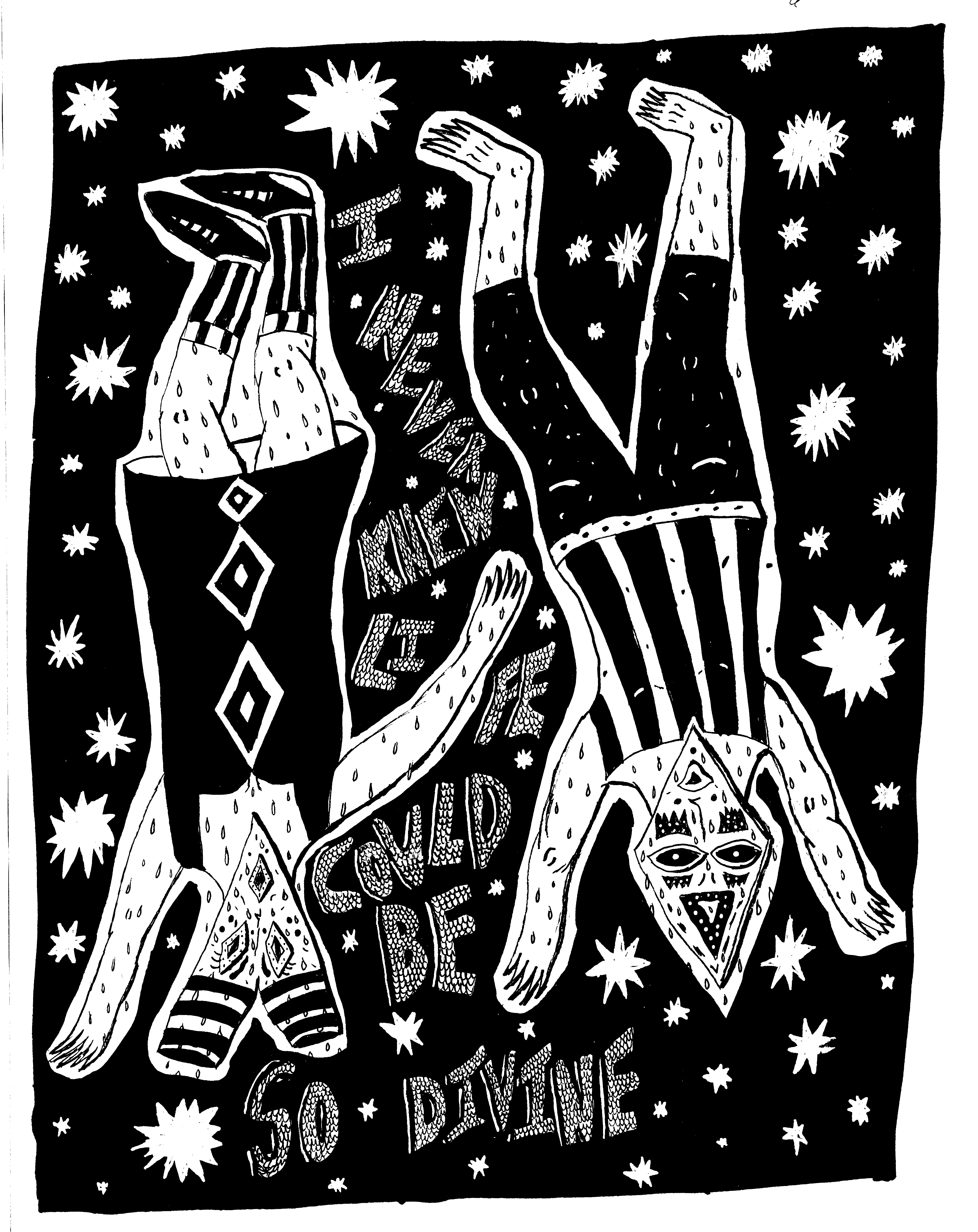 HERE'S THE TOP TEN, IN NO PARTICULAR ORDER :
1. In February I was in AIDS Thrift and there were all these kids running around saying Mommy This and Mommy That...then "I Saw Your Mommy" by Suicidal Tendencies came on the stereo !! And I got to watch those kids go from "hell yes something I can finally relate to !" to "OMG why would you sing about this ??" and that has been blowing my mind for months and months !! MORE songs about Mommy's, please !
2.
ART SCHOOL GIRLS OF DOOM
was a series of shorts within MTV's LIQUID TV starring two trans ladies deep in the 90's NYC underground. That is already SO cool but the way it's made, with wild camera work and constantly shifting handmade backgrounds, firmly places it in the "Perfect Art" canon and should be essential viewing for anyone remotely interested in ARTS, HUMANITY, and THE WORLD AT LARGE ! There, I said it ! Also recommend following up with all of DOG BOY, also from Liquid TV !
3. The new Harmon Butcher zine,
MISERY CAN BE BAD
, (out now on Single Girl, Married Girl with illustrations by Lale Westvind!) is his best yet, and I've found myself revisiting several of the poems since I got it in early March. I'm pretty sure Harmon is talking about the same world that I live in, but there is something totally alien and removed about his perspective that makes everything feel scary and beautiful and funny all at once. Wanna make me cry ? Why not read "Out With Beb" to me and see what happens !!! I have been to a bunch of Harmon Butcher readings hoping to meet him but it's always just my friend Yianni with a karaoke machine strapped to his chest subbing in for him. Still really great !!
4. On my way home from the protest on July 4th this year, I looked up and saw fighter jets flying directly over me. This is a standard American show of power and didn't feel that surprising, but it did feel SO stark in contrast to where I had just come from : yelling "we must love each other and protect each other!" with a group of strangers in the streets downtown. I'm thinking of this often as I slowly make my way through
CAPTIVE GENDERS
(A.K. Press), a series of essays on "trans embodiment and the prison industrial complex" that is so incredible and so heartbreaking. As you well know one of the most important things to come fom this year has been the much needed spotlight on the violence of policing, and this book goes deep on all the different forms that violence can take. It's essential reading ! And don't forget : the ideas and solutions contained within are only radical in a society that prioritizes profits and punishment over care and well being !
5.
TRACEY TRANCE
has been so important in keeping even the slightest bit of hope and optimism alive this year ! I mean, I always feel that way but I REALLY dug into his music over the past few months, and am so grateful for the positive energy that bursts out of every song. "Pyper Kub" is the classic, but I've been holding "Keep It Up" very close for a while now. Honestly, you can't go wrong with any of his tapes !
6. Last issue's theme was appreciation and here's one to add to that very specific canon :
Jan Švankmajer's Conspirators of Pleasure
!! I have so much love for this movie, and as I was watching it couldn't believe it could actually exist. But, let's just say that this is a movie about a group of people who know exactly what they want from the world, presented with no judgement or shame. It's beautiful, really ! And of course totally immersed in Jan's tactile & surreal universe. Thank you Jan!!!!
7. Sorry if this is obvious, but I so often find myself thinking about how
BICYCLES
and
CUPS OF COFFEE
are two of my all time favorite inventions that I just need to make sure it's recorded somewhere. My life has changed so much from year to year YET I still ride my bike and drink two cups of coffee a day, it's a beautiful thing. I'm getting teary eyed just thinking about how tomorrow I will wake up, make a cup of coffee and bike north along the river. UGH !!!
8. HEY speaking of bike rides, there's a beautiful
BRIDGE out in Bala Cynwyd
that I've been loving this year !! Looking north gives you this really scenic, foliage filled rust belt scene that I haven't experience anywhere within biking distance of Philly. Feels so removed and remote in a refreshing way. Now that it's fall you know I'm gonna be there every weekend to watch all the leaves change :) hope I see you out there !!!
9. One of my more obsessive hobbies this year has been getting deep into
THE COMMAND LINE
, which is the text-only method of computing that you've seen in hacker movies. It is intimidating and dense at first, but once I got used to the language and methods things started to feel so easy and free. I listen to music, read the news, convert files and so much more with all these simple text commands. It sounds unnecessary when you're so used to clicking around but trust me : this is true punk computing because it can be done on any random old computer ! Corporate computing is designed to self destruct, but by bypassing that completely we can cut down on e-waste and empower ourselves to understand what's truly going on in these devices that have become so ubiquitous in our lives ! Think about it like using a hammer and nail for the first time : simple and mind expanding. Please write if you want to chat w/ me about this !!!
10.
COMPASSION
and
GRATITUDE
have been two of my main focuses over the past few months. For the self and the world at large and of course for you, dear reader !! I hope you're OK and taking care of yourself as best you can. Remember, you DESERVE to be free from suffering !
SECRETS LOUNGE

Heat Freaks was the issue that took me the longest to draw !
I began the zine in my bedroom / studio room in early February. Around the same time I took this "the artist as Angler Fish" picture:

I started to put together the ideas for the comic and sent off this basic idea in an email :
It's shaping up to be a pro heat, pro steam, anti air-conditioner (unless you need it) comic, hoping to inspire the reader to celebrate Sweating, their natural cooling and cleansing mechanism. It is sort of utopic and seemingly stench-free, but mostly about positive thought patterns and working within your means.

Once the pandemic hit I had a bunch of other things to deal with and couldn't really draw again until early May. The building I was in was totally empty so I moved up to the fourth floor and started drawing there :

Literally the day after I started drawing again my life abruptly descended into months of chaos. By mid September I had moved twice and kind of, sort of, settled into an apartment across town. I was having a really hard time focusing on anything but knew that I just wanted to have Heat Freaks OVER WITH ! SO I hunkered down and got it all together :

This was the first piece of art I finished after fully removing myself from social media, and it felt really fun and exciting to reach out to friends and say "I have something for you !" and bike all over the city delivering copies. It felt like I was truly hitting my artistic
stride
!

When I started drawing this zine, I was thinking about the reading of Puke Force by Brian Chippendale that I saw at ADA Books in 2016. He said that wasn't sure how to end the book so he just started having fog roll in and consuming everything, so because I didn't know how to start the zine I decided to do the opposite and have all consuming steam dissipate. Simple !