EVERY SHOW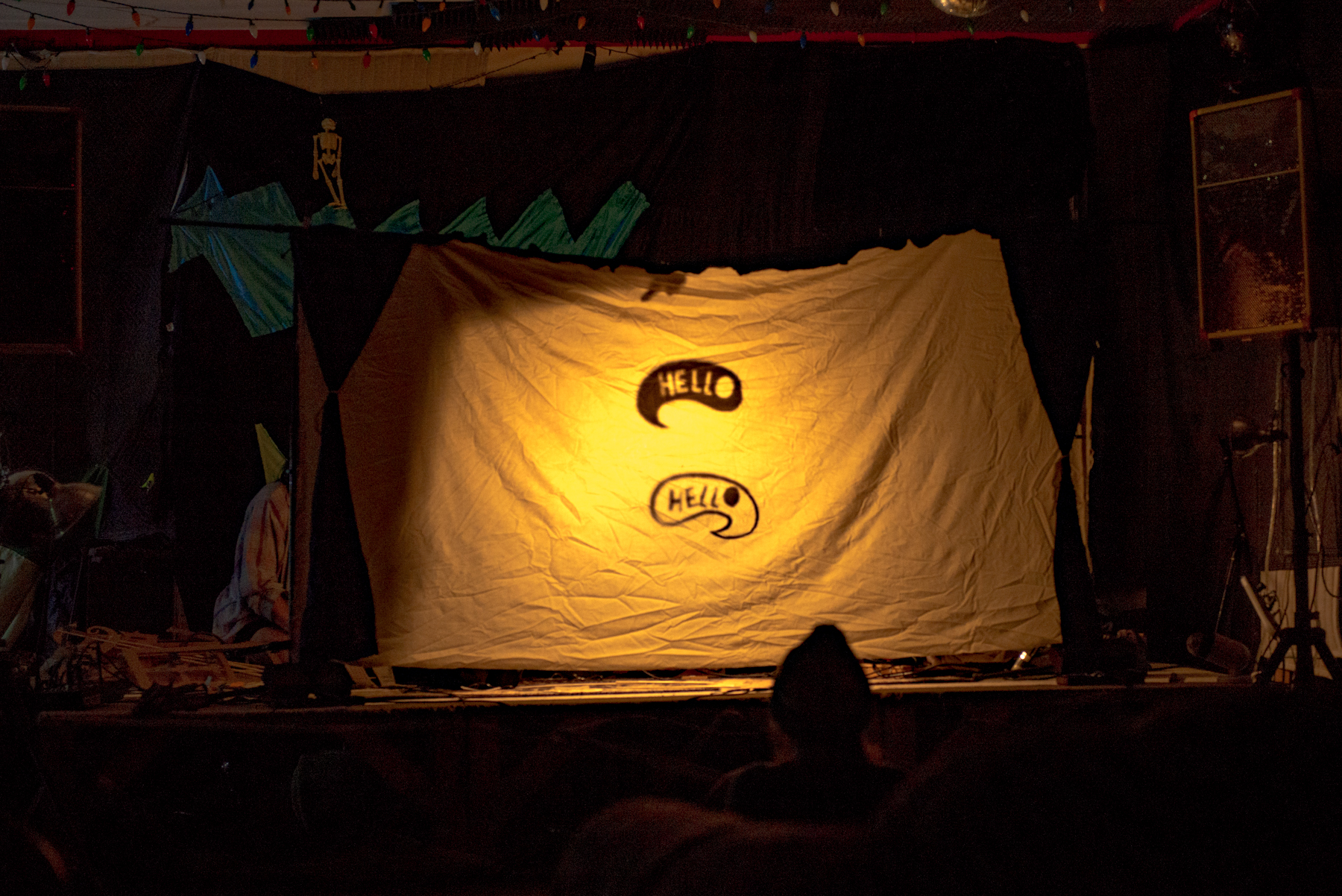 Live at Outer Space in Arcata, CA
w/ Puppets by Nora Einbender-Luks, joined musically by Benji and Deetz.
Picture by
Zevvy Smith - Danford.
For all booking (in another timeline ? another lifetime ? 10 years from now ?), email me at
ana @ deeperclarity dot net
If someday sometime you will put on shows in state parks, donut shops, beach bungalows, etc then you have my attention and I will come to you !!!!!!!!!!!!!!!!!!!!!!!!!!!!!
Click
HERE
to get back home
Click
HERE
for pictures from past tours
---
UPCOMING
7/12 @ Abyssinia Upstairs (Philly) w/ The Lentils, Lina Tullgren, Brittle Brian
ALSO:
CRAWLING BACK UNDER MY ROCK
JUST HANGING OUT
COFFEE AND PANCAKES
LONG BIKE RIDES
PROBABLY A LOT OF DRAWING


2021
10/10 @ Grays Ferry Skatepark (Philly) *performing as a member of Serpentine Bead* w/ Street Rat and a video by Third Space Somatics
7/10 @ Gray's Skate Park (Philly) *performing as a member of Serpentine Bead* w/ Hi Viz, Weekend Athlete and Street Rat
6/20 @ Gray's Skate Park (Philly) w/ WORD CLUB


2020
:(:(:( :(:(:( :(:(:( :(:(:( :(:(:( :(:(:( :(:(:( :(:(:( :(:(:( :(:(:( :(:(:( :(:(:( :(:(:( :(:(:( :(:(:( :(:(:(


2019
10/6 @ Anthorna Arts (Philly) w/ Karl Blau, Pleasure Systems and Ever Ending Kicks
10/5 @ Old Scratch (Manhattan, NY) w/ Ever Ending Kicks and Flashlight O
6/23 @ Window Room (Philly) w/ Briana Marela, Slow Ref and The Worm
6/20 @ Zoe's House (Northampton, MA) w/ Jason Calhoun, Zoe Grant and Britt Brideau
6/16 @ Sally's House (Plainfield, VT) w/ Smilax, Grackle, Fern Maddie, Adrian Cooper Smith
6/15 @ Mountain Show (Hudson Highlands, NY) w/ Yours Are The Only Ears, Potted Plant and Normal Person
6/09 @ Joey and Tracey's (Philly) w/Michael Cormier, Erika Nininger and Michael Boris
5/26 @ The Roboto Project (Pittsburgh, PA) w/Scare City, Spenking and Thousandzz of Beez
1/6 @ The Mothership (Philly) w/ Lauren Tosswill, Snow Caps and Tiffany's House


2018
11/10 @ Space 1026 (Philly) w/ Actual Pearls and Ruth Garbus
7/20 @ Peter's House (Philly) w/ Snow Caps and The Widest Smiling Faces
7/15 @ The Tundra Dome (Philly) w/ Naps, Josh Mason and Shedding
7/08 @ Piggie's Amusement Complex (Philly) w/ Blood Orphans, Ylayali and Roya
5/27 @ Subrosa (Santa Cruz, CA) w/ Dingbat Superminx, Village of Spaces and BB Sinclair
5/26 @ Carla's Bakery (Moorpark, CA) w/ Cave Babies and Lamplight
5/25 @ San Diego, CA w/ Secret Spot, Love Triangle and dnll
5/24 @ Los Angeles, CA w/ Diners, Adult Mom and Scarlet
5/21 @ Outer Space (Arcata, CA) w/ Mother Munchie and Julie Perdido
5/20 @ Redwood Park (Arcata, CA) w/ Aro and Bloodhoney
5/18 @ Tony's House (Portland, OR) w/ Allyson Foster, Sand Duney, Cave Cricket and Pwrhaus
5/17 @ Magic Lanes (Seattle, WA) w/ Allyson Foster, Jordan O'Jordan and Dena Zilber
5/16 @ The Avant Garden (Vancouver, BC) w/ Allyson Foster, Matthew Okuda, Future Star and Alie Lynch
5/15 @ The Trackhouse (Olympia, WA) w/ Allyson Foster, Ancient Forest, Aro and Magellan
5/1 @ Space 1026 (Philly) w/ Diane Cluck
3/10 @ Scully's Den (Brooklyn, NY) w/ Boy Scouts and Buni Hate Mail
3/09 @ Scary Door (Providence, RI) w/ Boy Scouts, Visibilities and Daniel Stern
3/08 @ Trixie's Palace (Boston, MA) w/ Boy Scouts, Judy Chong and Melissa Weikart
3/05 @ Lagusta's Luscious Commissary (New Paltz, NY) w/ Boy Scouts and Sarah Jane
3/04 @ Smog (Tivoli, NY) w/ Boy Scouts, Leor Miller, Easy Socks, Bel Simek, Em Anastasi and Lin Pritchard
3/03 @ The Dock (Ithaca, NY) w/ Boy Scouts, Clam Lust and Palehound
3/02 @ Ferngully (Philly) w/ Hermit Thrushes, Boy Scouts and Peter Schranz
2/16 @ Ferngully (Philly) w/ Baby Mollusk, Sundog and Brittle Brian
1/20 @ Planet Phitness (Philly) w/ Closer, Baby Mollusk and Crooked Spine


2017
12/15 @ Cactus Space (Philly) w/ Kate Ferencz, Flashlight O and Sunatirene
12/1 @ Piggies Amusement Complex (Philly) w/ R. Ariel, Kafari and Sluggrrr Pup
11/8 @ Fern Gully (Philly) w/ Visibilities, Creamy Mommy and Naps
11/5 @ Philamoca (Philly) w/ Colleen
10/4 @ Lombard Cafe (Philly) w/ Anastasia Lasky, Crooked Spine, Looks Like Mountains and Tuxis Giant
9/30 @ James House (Haverford, PA) w/ Diners and Real Life Buildings
6/27 @ Silent Barn (Brooklyn) w/ Zach Phillips, Yours Are The Only Ears and The Spookfish
6/25 @ Dennis (Bloomfield, CT) w/ Kath Bloom, Flashlight O, Zanders and Weller
6/23 @ 186 Carpenter (Providence, RI) w/ Tiffany's House, Les Anges and Beth Douglas
6/22 @ Shed Cellar (Boston, MA) w/ Tiffany's House, Judy Chong and Bedbug
6/21 @ Franklin St. House (Northampton, MA) w/ Bella, Most Selfless Cheerleader and Walmart Romeo
6/17 @ Small World Books (Rochester, NY) w/ Rosehip, Kitchen and Slumbers
6/16 @ All Night Diner (Philly) w/ Peter Schranz, Sitcom, Fursaxa and a video by Z
4/27 @ The Stood (Purchase, NY) as part of the Culture Shock side stage
4/19 @ Piggies Amusement Complex (Philly) w/ Naps, Lesser and Lung Cycles
1/27 @ The Trackhouse (Olympia, WA) w/ Briana Marela and Blood Orphans
1/25 @ Northtown Coffee (Arcata, CA) w/ Tea Wiggs and Jeremy Bursich
1/24 @ SubRosa Community Space (Santa Cruz, CA) w/ Boy Scouts, Practicing Sincerity and Soap
1/22 @ Ghost Ramp Records (Los Angeles, CA) w/ Steady Lean, It Could Always Be Colder and Boy Scouts
1/21 @ All Star Lanes (Los Angeles, CA) w/ Little Wings and Boy Scouts
1/20 @ BK Kids Club (San Francisco, CA) w/ Staring Back, Boy Scouts and The Yellow Dress
1/19 @ the sSsSs house (Davis, CA) w/ Munchie BLVCKHXVRT, Matt Stalcap and Wayne Jetski
1/17 @ 526 Club Worldwide (Portland, OR) w/ Half Shadow, Indira Valey and Cave Cricket
1/16 @ Magic Lanes (Seattle, WA) w/ Blood Orphans, Guests and films by Linda Fenstermaker
1/15 @ Maya Shakti Yoga Studio (Anacortes, WA) w/ Space Heater and Pulsar



2016


12/5 @ All Night Diner (Philly) w/ Liam Betson, Baby Mollusk and Ther
12/4 @ Third Rail Radio (College Park, MD) w/ Liam Betson and Ceremony
12/3 @ Sweetwater Dad Motel (Sweetwater, NJ) w/ Liam Betson, Sitcom, Ray Beck and Bean Trees
11/07 @ Jellystone (Philly) w/ New Holland, Shannen Moser and David F. Bello
10/21 @ In The West (New Brunswick, NJ) w/ Rita Fishbone, Algebra II and Teen Spaceship
10/20 @ New Planet (Philly) w/ Teen Spaceship, Shannen Moser and Rhea
9/10 @ New Planet (Philly) w/ Tall Friend, Tender Mercy and Francie Cool
9/4 @ 603^ (Philly) w/ Trace Mountains, Sean Henry, Coping Skills and Boy Scouts
9/2 @ Goldilocks Gallery (Philly) w/ Free Cake For Every Creature, Trace Mountains and Boy Scouts
8/19 @ All Night Diner (Philly) w/ Tuxis Giant, Looks Like Mountains, Most Selfless Cheerleader and Ylayali
8/17 @ Silent Barn (Brooklyn) @ Mt. Home Arts Showcase w/ 100%, Fraternal Twin, Eskimeaux, Paper Bee and Real Life Buildings
7/24 @ Random Tea Room (Philly) w/ Long Beard, The Goodbye Party and Tyler Maxwell Bussey
7/23 @ Kokomo (DC) w/ Long Beard, Romantic States and Snail Mail
7/22 @ Richmond, VA w/ Long Beard, Cat Be Damned and Yaya
7/13 @ The Pharmacy (Philly) w/ Free Cake For Every Creature, Purrer and Control Top
6/13 @ The Silent Barn (Brooklyn) w/ Young Jesus, Pope and Real Life Buildings
5/22 @ Alphaville (Brooklyn) w/ Long Beard and Rainwater
5/21 @ All Night Diner (Philly) w/ Trace Mountains, Algebra II and Most Selfless Cheerleader
3/26 @ The Waiting Room (Philly) w/ Long Beard, Addie Pray and Boosegumps
3/21 @ The Pharmacy (Philly) w/ Yours Are The Only Ears, Ylayali and Nina Ryser
3/17 @ The Pharmacy (Philly) w/ Desahnya and Michael Chen Band


2015


12/22 @ The Silent Barn (Brooklyn) w/ Long Beard, Fraternal Twin, Catholic Easter Colors and 100%
10/19 @ The Trackhouse (Olympia, WA) w/ Table Sugar, Freaky Pup, Baby Mollusk and Trust Fall
9/14 @ SUNY Purchase Graveyard (Purchase, NY) w/ Baby Mollusk and Friend Fiction
9/13 @ The Kremlin (New Brunswick, NJ) w/ Baby Mollusk, Old Maybe, Shawn Fitzgerald and Rob Romano
9/12 @ Robot Pirate Island (Philly) w/ Baby Mollusk, Long Beard and Old Maybe
5/3 @ The Stood (Purchase, NY) w/ Spectral Citadel Live Show, Tape Club, Jeffrey Lewis, Max Alper, Upper Chief, Moor Mother Goddess, Marcy & Ross and Josh Gr0ban
4/23 @ Shea Stadium (Brooklyn) w/ Crying, Slaughter Beach and Broken Beak

2014


10/4 @ David Blaine's The Steakhouse (Brooklyn) w/ Trace Mountains, Evil Band and Half Sour
9/27 @ The Fat Baby (NYC) w/ 100% and Baby Mollusk
9/17 @ The Stood (Purchase, NY) w/ Mount Eerie and 100%
7/16 @ The Batcave (Montclair, NJ) w/ Overlake, Life Eaters and Desir Decir
4/18 @ The Stood (Purchase, NY) w/ Puregrass, Chester Endersby Gwazda and Oh, Oh Ecstasy
2/23 @ The Stood (Purchase, NY) w/ Trace Mountains and Stephen Steinbrink
1/22 @ The Grand Victory (Brooklyn) w/ Orsino


2013


10/29 @ SUNY Purchase Graveyard (Purchase, NY) w/ Peaer, Adult Mom, Whatever, Dad, Baby Mollusk, Pupppy and Daniel Grjonko
10/4 @ The Stood (Purchase, NY) w/ Lake and Breakfast In Fur
8/28 @ 186 Carpenter (Providence, RI) w/ Johnny Young, Katie Miller, Neil Jackson and Joshua Marcus
6/29 @ What Cheer? Antiques (Providence, RI) w/ Allysen Callery
4/13 @ Watermargin (Ithaca, NY) w/ Marloneisha and Slonk Donkerson


2012

12/?? @ The Stood (Purchase, NY) Don't remember much other than a Very weird time, jazz major christmas music
11/27 @ The Stood (Purchase, NY) w/ Shana Falana, Mood Tattooed and Innersummer

back to the top